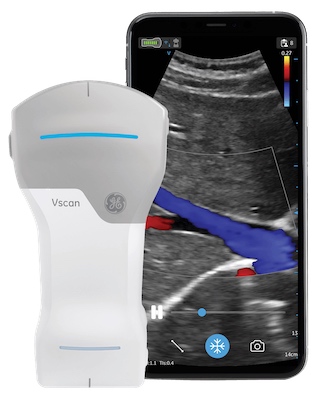 Introducing Vscan Air™.
A wireless handheld ultrasound system that helps you make clinical decisions by quickly ruling in or out certain conditions.
Vscan Extend. Expedite care when time counts.
Increase speed to diagnosis.
Increase diagnostic accuracy.
Dual probe system for quick checks and simple procedures.
Reduce the need for extra tests.
See into the whole body with the Vscan Air wireless handheld ultrasound system.
Clear images. Informed decisions.
Quickly triage patients and make fast decisions on next steps*, such as admitting and discharge decisions, and the next treatment or referral choice, potentially saving precious time and minimizing the need for costly and invasive imaging procedures.
Break free.
Take it anywhere** with wireless freedom and maximum portability. Vscan Air is designed for the rigors of your emergency department including makeshift care areas. It withstands everyday handling, from scratches to drops and even a rainstorm.***
Ready in your pocket.
Optimized for the most common exams in the ER, including eFAST examination for traumatic injury, evaluation of patients presenting with acute abdominal pain, shortness of breath, or undifferentiated hypotension. No need to use valuable time searching for an ultrasound cart.
Vscan Air helps you accelerate clinical decisions and perform guided interventions such as fluid drainage or securing central venous access in potentially life-threatening situations, and with the help of a visual scan at the point of care.

By your side.
Make the most of your system with the easy-to-use design, backed by GE HealthCare educational tools and 3-year warranty.
Clinical Resources for
Emergency Medicine
ARTICLES

CLINICAL IMAGES

STUDIES & EVIDENCE
Filter clinical images
Clear all parameters
For optimal experience, view on personal computer
Vscan Extend for Emergency Medicine
Sector Probe
Focused for:
Urinary Bladder Volume
Bladder Dysfunction
Post-Renal Obstruction


from $6,700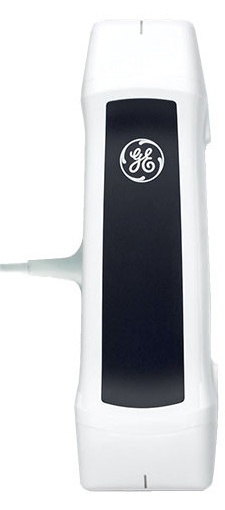 Dual Probe
Versatile for:
Broad Applications
More than a Bladder Scanner
Procedure Guidance

from $8,400

Vscan Extend Apps to Empower your Care
Need help deciding which Vscan is right for you?
The Vscan family of handheld ultrasound solutions–Vscan Air and Vscan Extend–enables clinicians to easily image patients at the point of care.
Two transducers. One probe.
Clear images for informed decisions.
Easy to use. Every day.
Support in every scan.
Backed by GE HealthCare's legacy of handheld ultrasound innovation.
Vscan Air
Wireless freedom.
Use your own mobile device*
Designed for whole body scanning with dual probe
Well-suited for basic or limited focused cardiac assessments**
Convex and high frequency linear transducers
View in both portrait and landscape modes
Flexible wireless dataflows, no cloud required
Share anonymized images via mobile apps
* Compatible with a range of Android™ and iOS® smartphones and tablets.
** Vscan Air is suited for the assessment of pericardial effusion and tamponade, cardiac activity, global assessment of contractility, and the detections of central venous volume status to meet the American College of Emergency Physicians (ACEP) 2020 Policy Statement for Emergency Ultrasound Guidelines.
Vscan Extend
Dedicated, hardwired device with 5″ touchscreen
Designed for broad clinical utility with dual probe
Well-suited for advanced focused cardiac assessments**
Sector and linear transducers
View in portrait mode
Wirelessly export images to Tricefy™
Personalize your device with access to apps–LVivo EF, Urinary Bladder Volume, Lung M-Mode, and more
** Vscan Extend is suited for a focused, standardized assessment of the cardiac size, structure and function at the point-of-care including LV function and significant structural and valvular function abnormalities, in addition to meeting the aforementioned guidelines.
Hear from your peers
---
*Andersen & Dalen – Diagnostic Influence of Routine Point-of-Care Pocket-size Ultrasound Examinations Performed by Medical Residents – J Ultrasound Med. https://www.ncbi.nlm.nih.gov/pubmed/?term=25792578; Filopei & Kory 2014 – Impact of Pocket Ultrasound Use by Internal Medicine House Staff in the Diagnosis of Dyspnea; Maw & Soni 2018 – Inpatient Notes: Why Should Hospitalists Use Point-of-Care Ultrasound? – Annals for Hospitals.
** The device has been verified for limited use outside of professional healthcare facilities. Use is restricted to environmental properties described in the user manual.
***Vscan Air probe withstand drops: tested to Military drop standards (MIL-810G). IP67 waterproof, compatible with high-level disinfection techniques.

1. Razi & Spencer, University of Chicago, Chicago, Illinois – USA; Bedside Hand-Carried Ultrasound by Internal Medicine Residents Versus Traditional Clinical Assessment for the Identification of Systolic Dysfunction in Patients Admitted with Decompensated Heart Failure; Journal of the American Society of Echocardiography, 2011; PubMed ID (PMID) 21885245.
2. Panoulas & Nihoyannopoulos, Hammersmith Hospital, Imperial College Healthcare NHS Trust and Imperial College London, London, UK; Pocket-Size Hand-Held Cardiac Ultrasound as an Adjunct to Clinical Examination in the Hands of Medical Students and Junior Doctors; European Heart Journal of Cardiovascular Imaging, 2013; PubMed ID (PMID) 22833550.
3. Colli & Casazza, Internal Medicine Department, Ospedale A Manzoni, Lecco, Italy Department of Biomedical and Clinical Sciences "L. Sacco," Università Degli Studi di Milano, Milan, Italy; The Use of a PocketSized Ultrasound Device Improves Physical Examination – Results of an In- and Outpatient Cohort Study; PloS ONE, 2015; PubMed ID (PMID) 25793296 Open Access.