Handheld Ultrasound Knowledge Center.
A single point-of-care ultrasound package with a device, training, and certification
POCUS Prime offers a point-of-care ultrasound training package designed for new and experienced POCUS providers, needing to purchase ultrasound equipment, obtain comprehensive education, and prove their proficiency through globally recognized certification.
Under one streamlined purchase, POCUS Prime offers providers the new Vscan Air™ from GE HealthCare, and world-renowned certifications provided by the POCUS Certification Academy.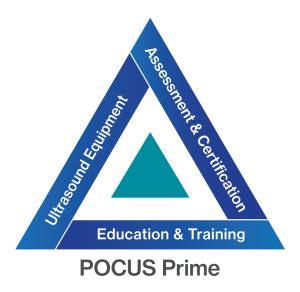 Vscan AirTM
+
POCUS
Foundations
Read more
Close x
Vscan AirTM + POCUS Foundations
The Vscan Air plus Foundations Package is well-suited for new POCUS users that are looking to learn the basics of point-of-care ultrasound. This offering features a two component POCUS education plan, which includes: Vscan Air Base Package, and an online POCUS introductory course and POCUS Fundamentals Certificate from the POCUS Certification Academy. The Foundations package has been designed for hospital/clinic staff, teaching programs, and residency programs looking to equip and assess their healthcare providers with the new skill of point-of-care ultrasound. This package does not include CMEs.
Buy now
If you have already purchased a Vscan Air and would like to add a POCUS Prime education package, please reach out to Insidesales.EcommerceUSACCS@ge.com for a customized quote.
---
Handheld Ultrasound Videos
Product Tutorials

Clinical Tutorials
Filter product tutorials
Clear all parameters
For optimal experience, view on personal computer
Filter clinical tutorials
Clear all parameters
Primary care
Emergency
Cardiology
Women's health
Urology
Procedural
GE HealthCare is providing educational videos to support medical professionals continuous learning related to various devices, technologies, and applications. Some of these videos are provided in agreement with 123Sonography.
Ongoing Handheld Ultrasound Education
GE HealthCare proudly partners with ultrasound educators to provide a wide variety of offerings from product training to CE-based
clinical courses. Continue your learning journey now.
SonoSim® 365 for GE HealthCare
Learn ultrasonography at your convenience, anytime, anywhere. SonoSim® 365 for GE HealthCare is a portable, virtual ultrasound training experience that covers everything from the basics of scanning to hands-on simulations of real-world patient cases, demonstrating a broad spectrum of normal and pathologic conditions.
Clinical Resources
Articles

Clinical images

Studies & Evidence
Filter clinical images
Clear all parameters
For optimal experience, view on personal computer
Primary care
Emergency
Cardiology
Women's health
Urology
Procedural